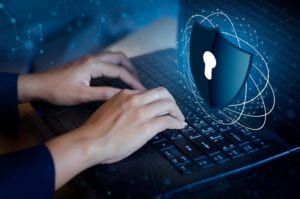 Cybersecurity concerns have risen over the past couple of months as attackers continue to take advantage of the [at-home] situation.
Without a doubt, cybersecurity should be enhanced during the pandemic as stay-at-home orders continue to encourage businesses to work from home for as long as possible — and that includes credit unions.
Credit Unions around the country are facing many challenges as they manage an abrupt shift to remote work. This has caused a surge in the use of cloud collaboration apps. For example, Microsoft Office 365 Teams gained more than 12 million daily users in a single week (that is up 37.5 percent). The result was that the software suffered an outage due to the rapid rise in demand!
In adjusting to a completely remote, digital workforce, credit unions need tools that can augment their capacity to handle new compliance, security, and data loss risks. While certain software may make collaboration more efficient, data protection and management remain a challenge. This is one of the reasons financial institutions should pay attention to cybersecurity during this pandemic.
"Cybersecurity concerns have risen over the past couple of months as attackers continue to take advantage of the [at-home] situation," writes Credit Union Journal on this topic of why credit unions should step up cybersecurity during Coronavirus.
As the market leader in providing affordable managed IT security services for credit unions throughout the United States, Btech recognizes the need for such institutions to hone in on their cybersecurity during the COVID-19 pandemic. But, what exactly is cybersecurity, why is it important, and what are some ways that financial institutions could take measures to increase their cybersecurity amid COVID-19? Btech will discuss the answers to these questions in this article.
Cybersecurity & It's Importance During COVID-19
Hackers are sending out a 300 percent increase in phishing emails about COVID-19.
Cybersecurity, or computer security, is the protection of computer systems and networks from the theft of or damage to their hardware, software, or electronic data, as well as from the disruption or misdirection of the services they provide.
"In today's connected world, everyone benefits from advanced cyber-defense programs," writes Cisco, a company with a technological focus.
"At an individual level, a cybersecurity attack can result in everything from identity theft, to extortion attempts, to the loss of important data like family photos. Everyone relies on critical infrastructures like power plants, hospitals, and financial service companies. Securing these and other organizations is essential to keeping our society functioning.
"Everyone also benefits from the work of cyber-threat researchers, like the team of 250 threat researchers at Talos, who investigate new and emerging threats and cyber attack strategies. They reveal new vulnerabilities, educate the public on the importance of cybersecurity, and strengthen open source tools. Their work makes the Internet safer for everyone."
With the increased reliance on computer systems, the Internet and wireless network standards such as Bluetooth and Wi-Fi, and smart devices, including smartphones and televisions, cybersecurity is becoming more important. With this increase in computer systems comes a demand in necessary processes to keep such systems protected.
Now, what does this have to do with COVID-19? In an article about cybersecurity during COVID-19, Forbes recently interviewed Eric Cole, a previous professional hacker for the CIA, about the current rise in cyber-threats during the pandemic. "[Hackers] are sending out a 300 percent increase in phishing emails about COVID-19," Cole says. Why use this pandemic as an opportunity to increase cyber-threats. Simply put: The pandemic is making people scared, and with fear comes irrational decisions…like clicking on emails you typically would avoid.
"71 percent of all emails that you receive that say COVID-19 or corona are actually malware or attacks," Cole continues. "Less than 30 percent are legitimate." The bottom line: We all need to be careful and more cautious these days when it comes to cyber-threats.
How To Increase Cybersecurity During COVID-19
Credit Union Journal gives us some solid tips and tricks to help us increase cybersecurity during the pandemic. While we are not all computer engineers, most of us utilize a computer system which means most of us are susceptible to cyberattacks…which means most of us could benefit from learning a thing or two about cybersecurity during COVID-19. Consider the following 3 simple pointers:
Ensure communication channel security. Use a communication channel that has been approved by your organization, where the security implications have been reviewed and the vulnerability remediation process is written in your contract. Additionally, mandate that for each meeting your organization requires passwords, that a new meeting ID be generated instead of using a static, personal one, and the waiting room functionality is enabled so you have to give users permission before joining.
Implement continuous security testing. Credit unions are required to perform ethical hacking to uncover vulnerabilities annually. However, continuously scan and monitor your system for malicious activity — not just once a year. Financial institutions such as credit unions are a target that makes financial sense for hackers, so it is critical that you identify and remediate any vulnerabilities on an ongoing basis, or the risk of a breach will increase.
Educate your employees. Provide employees with appropriate security training so that they don't put the organization at risk. Be sure to educate employees not only on how to keep their connection secure but also how to avoid scams.
Btech Can Help Improve Your Credit Union's Cybersecurity During COVID-19
Financial institutions such as credit unions are vulnerable to cyber attacks as employees continue to work from home and financial services continue to be offered digitally as opposed to in-person. Stop putting your institution at risk when it comes to cyber-threats. Taking active measures to increase your institution's cybersecurity during COVID-19 could affect the success of your institution, client relationships, and future business endeavors for better or worse.
Use Btech for affordable managed IT security services so your credit union can stay protected during the pandemic. We are the market leader in providing affordable managed IT security services for credit unions and have worked diligently and professionally to maintain strong client relationships for over 30 years. We provide honest, intelligent, and cost-effective services and solutions to credit unions and will tailor our services to ensure that your IT environment is secure and compliant.